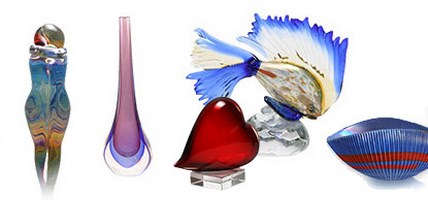 Murano Glass Gifts
Murano Glass and Murano Glass Jewelry are known and revered around the world for their elegance of design and superb craftsmanship.The finest raw materials and craftsmanship result in glass of unequaled purity  trademark of the highly sought after Murano Glass pieces and Murano Glass Jewelry. These beautiful pieces are still made today on a small island just north of Venice using the same methods that has been the Murano Glass trademark for centuries.
Sort By:
Min price:
Max price:
Items per page:
Height: 8.00" Width: 7.00"

H: 8.50" W: 5.00" L: 11.00"

Height: 17.00"

Height: 13"

Height: 13.50"

Height: 12.00"

Height: 10.00"

Length: 17"

Height: 16.50"

Height: 16" Width: 3.00"
Sort By:
Min price:
Max price:
Items per page: