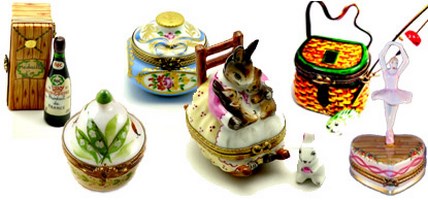 Limoges Factory
This is selection of elegant product of fine porcelain from Limoges, France. These pieces was made by different artists and hand painted. It is superior workmanship, vivid paint coloring and unique hinge and latch. These porcelain hinged boxes are also exclusively signed by the skilled French artists who paint them.
Sort By:
Min price:
Max price:
Items per page:
H: 2.00" W: 1.50" L: 2.25"

H: 1.75" W: 1.50" L: 1.50"

H: 2.50" W: 0.75" L: 0.75"

H: 2.50" W: 0.75" L: 0.75"
Sort By:
Min price:
Max price:
Items per page: